These designs show that Pokemon and kaiju have been around for a long time.
You might not know this, but everything about Pokemon comes from kaiju culture. Before the cards, video games, and worldwide fame, Satoshi Tajiri, the man who created Pokemon, was just a bug collector with an idea for a game based on the famous capsule kaijus from the Ultraman series. These tiny machines held giant creatures that would fight in place of Ultraman in different battles.
Because of this idea, Tajiri came up with the idea for a game called "Capsule Monsters," which later became Pokemon. Even the first characters, Godzillante and Gorillaimo, are clear references to the king of monsters and his biggest rival. In fact, many Pokemon designs, even ones you wouldn't expect, are directly based on kaiju.
Lokix And Kamen Rider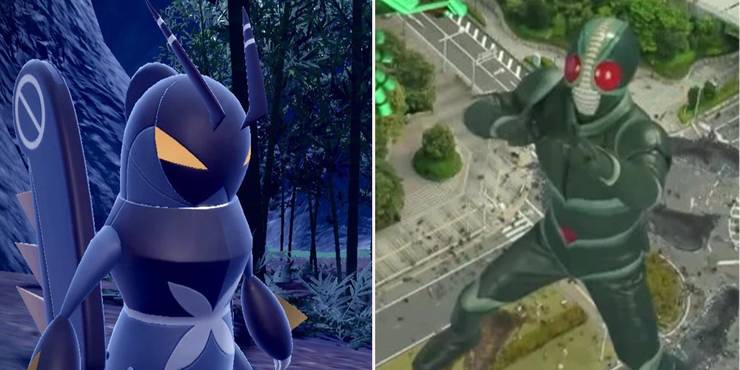 One of the most obvious kaiju references in Paldea is how much Lokix looks like the Kamen Riders, a group of Japanese superheroes. These superheroes based on crickets are right behind Ultraman as Japan's most popular homemade heroes, so it makes sense that they would eventually be used to design a Pokemon.
Even though Kamen Rider isn't a kaiju in the traditional sense, it has kaiju-like qualities because the riders often grow very large to fight giant enemies. Like its model, Lokix has a strong attack for a bug type, especially when Terastallization is used. It is one of the best designs based on kaiju because it stays true to its inspiration.
Slaking And King Kong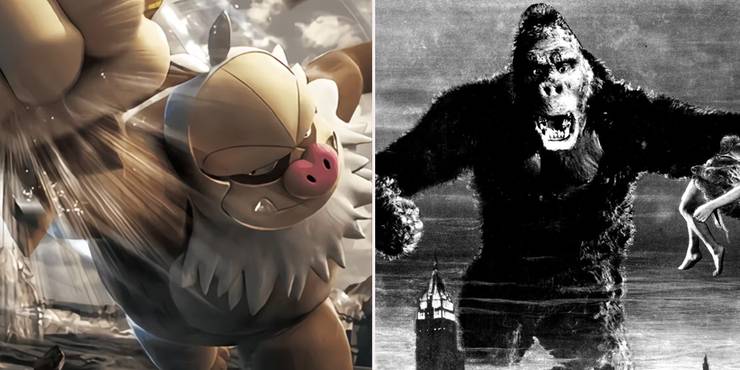 There are many Pokemon that look like gorillas, but there is only one king. Even though Slaking seems uninterested, its design was based on King Kong, one of the most famous monsters in movie history. It all started with a funny idea that one of the people who made it had. They wanted to make a Pokemon that was lazy but got up and did something, but then they decided it wasn't worth it.
They wanted to make something frustrating and a waste of potential, so they added small references to the famous ape. Without its Truant ability, Slaking is a huge, powerful monster with a primal rage that can be hard to stop. When these things happen, Slaking really lives up to what it was meant to be, but since they don't happen very often, the kaiju connection is often overlooked, even though the name gives it away.
Volcarona And Mothra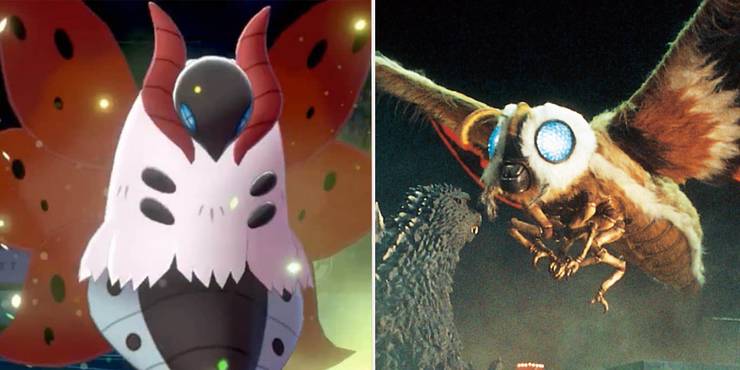 Many moth-type Pokemon, like Gigantimax Butterfree and Venomoth, were made to look like Godzilla's aerial alley. However, Volcarona is the one that looks the most like Godzilla's aerial alley. Its red wings and status as a "pseudo-legend" set it apart from other winged insects and give it the most direct link to the legendary kaiju.
When it was first made in Gen 5, it was their champion's signature Pokemon. They wanted a strong bug and fire type because they didn't think there were enough of those in the Unova region. Even in its Paradox form, Iron Moth looks like an old idea for Mecha-Mothra, who was supposed to be in the sequel to Mothra vs. Godzilla but was scrapped.
Bisharp And Ultraman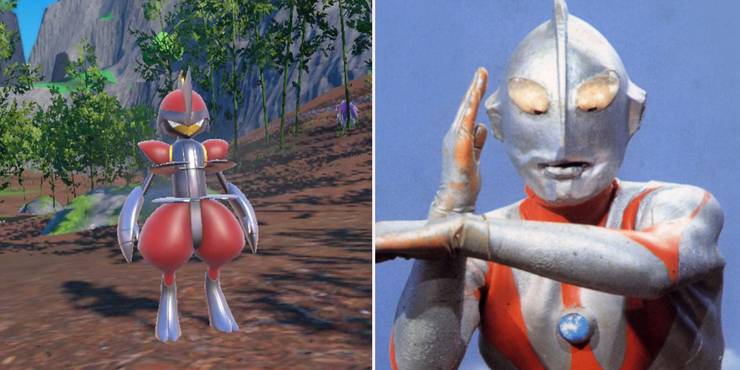 As important as Ultraman was in the making of Pokemon, it's surprising that it took five generations before they made a Pokemon directly based on Ultraman. Still, Bisharp is another Pokemon from Unova that is based on kaiju. Many people have said that it looks like Godzilla's friend Jet Jaguar, but the case for Ultraman is much stronger.
Bisharp's head and shoulders look more like many of Ultraman's forms, while Jet Jaguar has at best only made a few small appearances. Plus, both of Gigantimax Urshifu's designs look even more like Japan's favorite superhero, Ultraman. This shows that Ultraman's influence is still a big part of the franchise as a whole.
Muk And Hedorah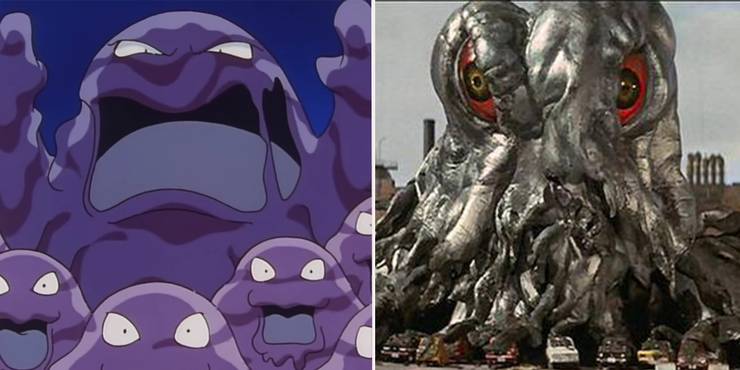 Muk is the kaiju-inspired Pokemon you are least likely to hear about. This smelly intelligent slime is based on the mythical alien slime monster Hedorah. This ancient kaiju from the 1970s is an alien creature that starts out small but grows into a huge gelatinous mess after eating a lot of Earth's pollution. It's big enough to make even the king of monsters look small.
Not only do Muk and Hedorah look very similar, but they also have the same ideas. Both thrive in dirty environments and become more dangerous as they do. Hedorah has also been used as a model for other Pokemon, like Garbodor and Ditto, but Kanto's most popular puddle of garbage is the best example of what it was based on.
Hydreigon And King Ghidorah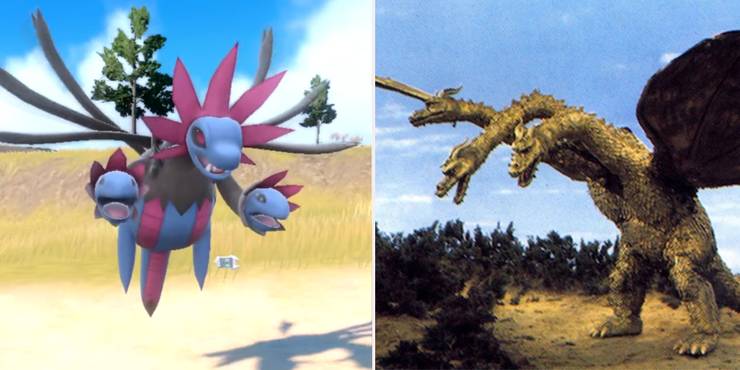 Hydreigon is another clear link between Gen 5 and kaiju. King Ghidorah, one of Godzilla's most famous enemies, is a clear source of inspiration for this flying hydra. You don't see as many three-headed flying dragons as you might think, but both Hydreigon and Ghidorah are in this group.
Even more proof of this is that it has a mechanized paradox form, which is a clear reference to Mecha-King Ghidorah. There are already a few Pokemon that look like the King of Monsters. So it was only a matter of time before this king got his own Pokemon.
Nidoking And Baragon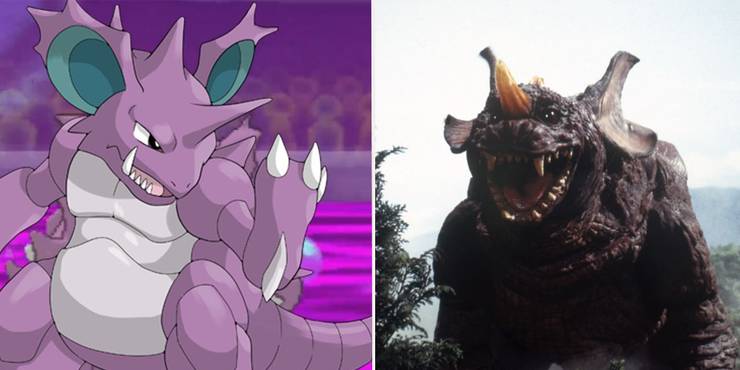 Baragon was one of the first kaiju that a lot of Pokemon were based on. This underground reptile has a very strange history, even for a kaiju. It's not one of the most famous kaiju, but it did inspire several Pokemon designs, with Nidoking being the most famous.
Baragon's single horn and "reptilian rabbit" look were also used to make Rhydon. The first Pokemon ever made, and Nidoqueen, of course. All of these Pokemon are of the type Ground, which makes sense since Baragon is a big creature that digs holes. It also explains why Nidoking needs a moonstone to evolve, since Baragon used to only come out at night. Baragon was a very important part of the history of Pokemon. Even though it was not very popular, even among kaiju fans.
Iron Thorns And Mecha-Godzilla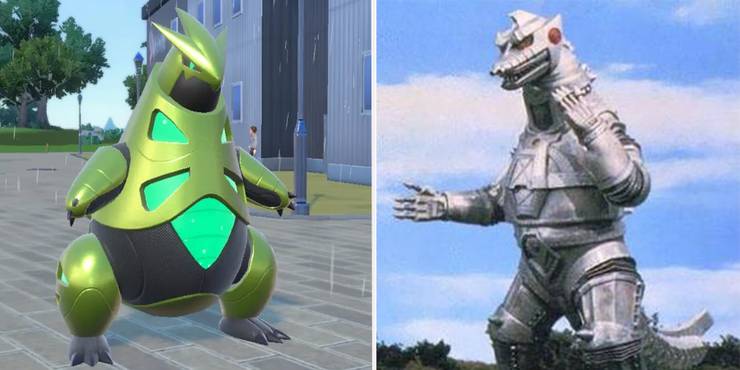 Godzilla might be the King of Monsters, but Mecha-Godzilla is the King of Mecha-Monsters. It also inspired two Pokemon designs, Duraludon and, more recently, Iron Thorns. However, Tyranitar's titanium grandchild isn't even the first mechanized version of Pokemon's first Godzilla copy.
In both the anime and the sequels to Black and White, there was a mecha-Tyranitar. Galar's steel dragon has some similarities, but Iron Thorn's is more directly based on Galar's. Even though Iron Thorns is more powerful on paper. It is slightly less useful in a fight than its current form because of its type and ability. This is similar to how Mecha-Godzilla always loses to its less advanced counterpart.
Giratina And Destroyah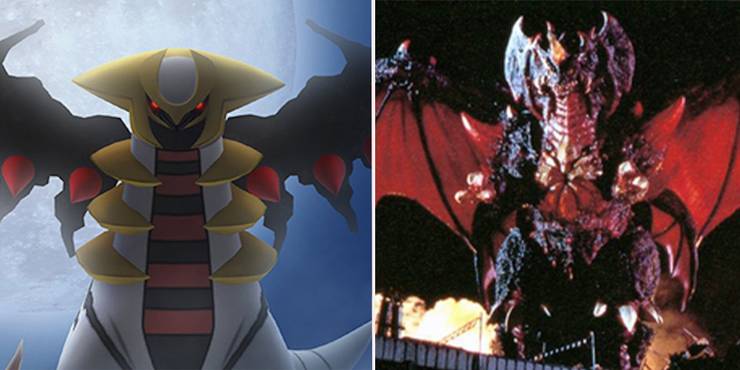 Giratina is one of the most famous Pokemon that was made to look like a kaiju. This god-like demon is based on Destroyah, one of Godzilla's most dangerous enemies. This Poke-diety can change into different forms, just like its kaiju cousin. Its fourth and fifth forms look almost exactly like Giratina.
It's a good idea for a Pokemon that is supposed to be the devil of the Pokemon world. Destroyah also grows because it takes in "mirco-oxygen," a very unstable source of energy that is very similar to the anti-matter that Giratina uses to control. Giratina is one of the most interesting kaiju-inspired Pokemon because it looks and acts like a kaiju.
Baxcalibur And Godzilla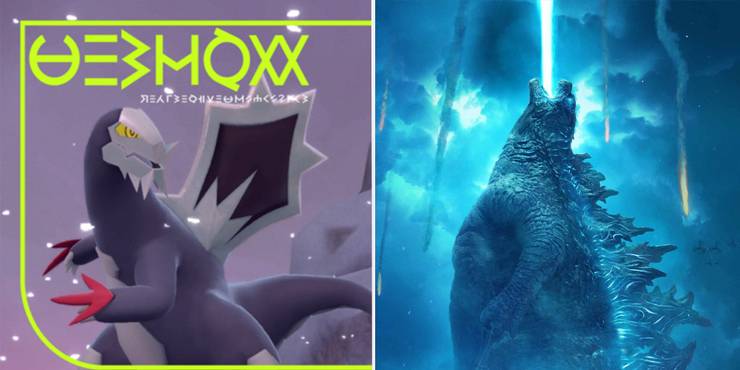 The King of Monsters is also the best Pokemon that are based on kaiju. Tyranitar is one of the most obvious Pokemon that was inspired by Godzilla. Other popular Pokemon, like Baxcalibur, were also inspired by different versions of Godzilla.
Even Baxcalibur's earlier evolution, Frigibax, looks a lot more like Godzilla's child Minilla than Pupitar does. Which proves that it is the better Godzilla clone. Feraligatr is also based on Slope Game, but its design is meant to look more like "Zilla" from the American movie made in 1998.
Since "Godzillante" was the first Capsule creature ever made and the spikes on the back of Rhydon are directly related to it. You could say that Godzilla's ideas were there from the start. Game Freak has never been ashamed of how much they love kaiju culture. So we can expect to see more designs that are based on kaiju as the series goes on.